Section 5. Late 20th Century: 1961–1996 (Part 1)
Culling began to control burgeoning population
K was predicted to be 7000–7500 individuals, or 0.37 elephants per km2
  Calculate values for the "unused portion of K, [1-(N/K)]" (round up to the second decimal) and for the population growth rate (ΔN/Δt) (round up to the nearest highest whole number). The values of N used here are estimated from the model using rmax = 0.15 and K = 7500 (you will look at the actual recorded data for N later in this lesson). Click here if you need help.
In the park
As the density of elephants increased, it was not necessarily resources that limited elephant population growth (remember, resource availability is just one of many things that regulate K).
In the case of the KNP elephants, human density-dependent "predation" (in the form of culling) was a strong regulator of elephant carrying capacity. Park managers actively maintained K at 7500 elephants.
Ironically, the African bush elephant population in KNP was probably still too dense at 7,500. Densities were higher than they had ever been historically. The elephants destroyed marula trees and stands of aloe. Now, you have seen the math behind the model. Click "Next" to evaluate the model with the actual data.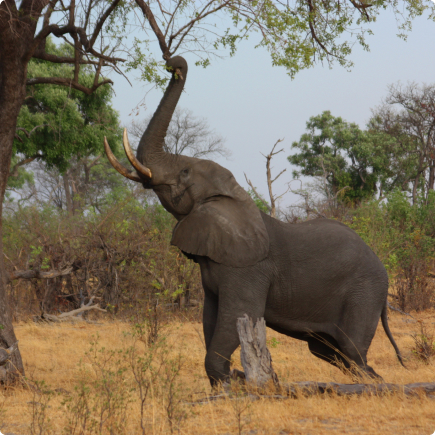 | Period | Year | N | 1-(N/K) | ΔN/Δt |
| --- | --- | --- | --- | --- |
| 1 | 1905 | 10 | 1.00 | 2 |
| 2 | 1930 | 613 | 0.92 | 85 |
| | 1935 | 1189 | 0.84 | 151 |
| | 1940 | 2139 | 0.71 | 230 |
| 3 | 1944 | 3157 | 0.58 | 275 |
| | 1946 | 3750 | 0.50 | 282 |
| | 1950 | 4810 | 0.36 | 259 |
| 4 | 1996 | 7500 | - | - |
---